I have been thinking a lot about culture lately. It was a hot topic at a recent Brainerd Foundation gathering, where climate leader Jessy Tolkan described cultural campaigns as the key to durable wins (actually, she said something much more poetic about culture as "the rain that falls all around us, saturating the ground to prepare it for policy change.")
When we as progressive campaigners think about cultural campaigns, though, we're often thinking about the culture "out there." The need to foster a stewardship ethic among group X, or promote civic participation in group Y.
Increasingly, I've been feeling like the cultural revolution that will really set the stage for durable wins is within. We as leaders need to shift our organizations and campaigns to reflect our values. We need to embody the intersectionality so many of us have adopted as an organizing tactic. We all grasp the strategic value of working across movements. Whether you are talking health or racial justice or labor, none of us has enough power to go it alone.
As many experts have pointed out, intersectionality speaks to the human experience. None of us lead single issue lives, and the millennials everyone wants to cultivate aren't single issue voters or donors.
I am seeing exciting examples of intersectional campaigns, like the  Our Generation, Our Choice event that brought young people to the streets to demand justice on race, climate and immigration, Gloria Steinham's involvement in the Fight for $15, and LGBTQ clergy coming together to support #BlackLivesMatter.
These bright spots are encouraging, but they are just a beginning. We still compete as often as we collaborate (Vu Le calls this the "Nonprofit Hunger Games"). There are real financial pressures that lead to a scarcity mentality. Our funding sources and business models often reinforce silos rather than challenging them. But there are also cultural barriers to change, and that is the area that gets me excited, because it's something we can fix.
I got a glimpse of what a more generous—and generative—progressive movement might looks like last month at Web of Change. Web of Change is a conference for leaders "working at the frontiers of technology and social change." This year, it brought together activists from the climate, immigration reform, LGBTQ, racial justice, reproductive rights, and civic tech movements to explore ways we can support each other, learn from one another, and be the change we want to see in the world.
On day one, the facilitators asked us to practice radical hospitality all week. They laid out these ground rules:
Consider the sacred in each person
Be stewards of this time and space
Open…Open…OPEN
Notice if you can be of service
Practice micro-inclusions*
The result was striking. The act of respecting everyone's whole humanity changed the whole dynamic. Intersectionality happened organically when we were liberated from the pressures that typically have us jockeying for position instead of sharing space.
The group came together to strategize about community-driven conservation in the Caribbean, paid family leave, and technical tools for the Ferguson Response Network. We talked about emotionally intelligent digital design to ensure online services really serve everyone (read more about this call to "Build With, Not For.") We donned purple to stand in solidarity against bullying and in support of LGBT youth on #SpiritDay.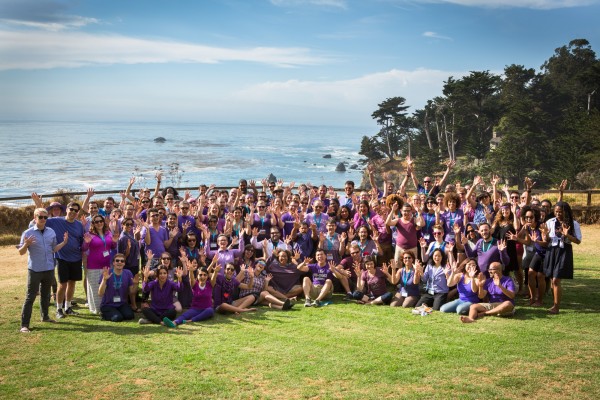 Now, maybe starting your next coalition meeting with an admonishment to "consider the sacred in each person" feels like a bridge too far. But what if we all modeled what it looks like to lead a little more with our hearts. To show up as whole people, listen deeply, and really see each other?
This is something we're working on at Resource Media. We're in the midst of a multi-year effort to become a more equitable and inclusive organization, and culture change is a critical piece of the puzzle. I lead a staff working group on the topic, and we're exploring the systems and practices we need to put in place to foster more creativity, collaboration, and equity. If your organization has any great practices that speak to those needs, I would love to hear from you!
And if you have stories of growth you've experienced as a result of seeing yourself and coworkers as whole people that do not lead single issue lives, please share.
* Micro-inclusions are meant to be the opposite of micro-aggressions, which Psychology Today describes as "everyday verbal, nonverbal, and environmental slights, snubs, or insults, whether intentional or unintentional, which communicate hostile, derogatory, or negative messages to target persons based solely upon their marginalized group membership."
Photos by Dakota Fine, courtesy Web of Change