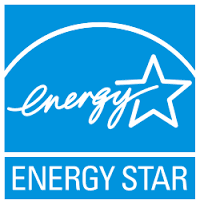 As the Trump Administration's proposed budget comes into sharper focus, bone-deep cuts to energy efficiency programs that benefit millions of Americans are rallying advocates to action. It's a textbook lesson in how a strong threat, and a clear action to push back, can be a match to light the advocacy fire.
The White House has offered a stark vision that would eliminate or roll back a broad swath of clean energy and efficiency initiatives, including:
Discontinuing the popular Energy Star program that brands efficient appliances
Eliminating the Advanced Research Projects Agency-Energy, which invests in clean tech that supports things like clean car innovation, from biofuels to batteries
Wiping out the Department of Energy program to weatherize low-income homes, which saves owners money and boosts resident's health
Shrinking (by how much is unclear) the Office of Energy Efficiency and Renewable Energy, a leader on advancing wind and solar tech, and increasing savings from household products. (See explainer video on all that EERE does.)
Based on early reaction within social media and the beltway, the proposal to kill Energy Star may be stirring a hornet's nest, with a swarm happening around the hashtag #ENERGYSTARWorks, including hundreds of tweets from advocates, businesses and individuals – and dozens of groups sending an appeal to lawmakers the old fashioned way: letters to House and Senate appropriators. Here are a few examples of the posts that have been lighting up Twitter: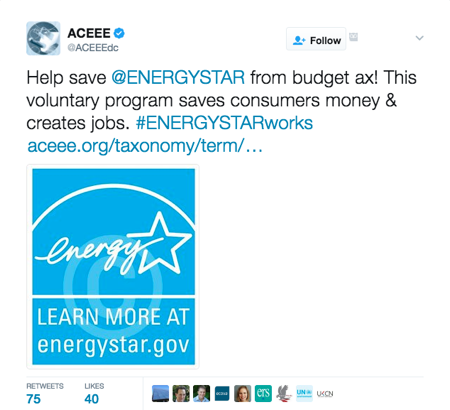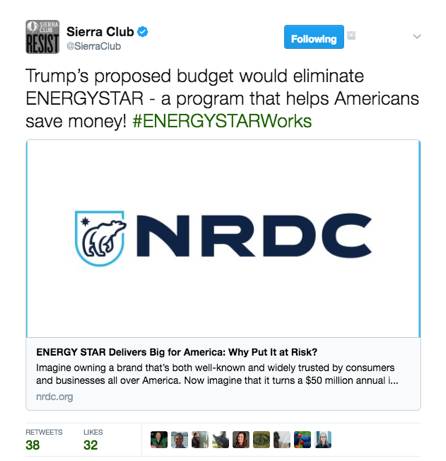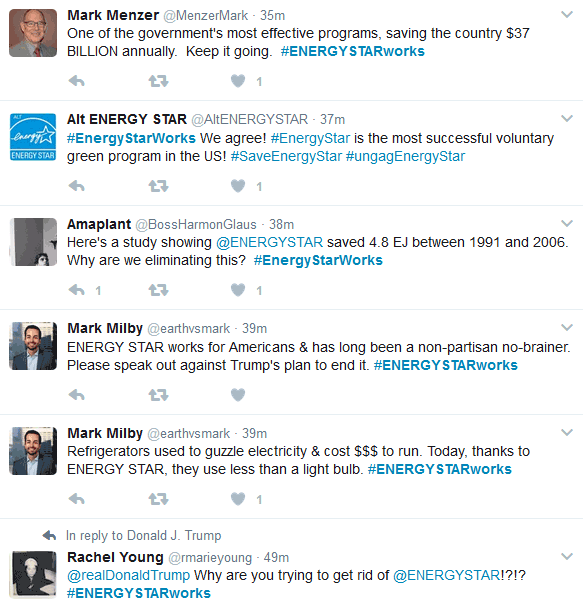 Resource Media will continue working with energy efficiency advocates around the country to highlight the huge benefits of efficiency investments to families and businesses, and to defend them from attacks.