Amid Earth Day events earlier this month, a gathering out in the desert in southeastern Nevada jumped off newsprint and screen with a captivating image. So compelling, in fact, that the Las Vegas Review-Journal ran it large enough to fill the entire above-the-fold space in the paper. It was huge.
Just a quick glance at the picture and you immediately "get it" without needing to read the article or even the caption: in sun-drenched Nevada, let's do solar power rather than coal.
Advertisers pay big bucks for mass media real estate to do this, to plant a simple idea in people's minds. As our Seeing is Believing guide details, there's no better way to do it than with a unique photo paired with a few key words. Humans are visual first, verbal second; when we see, it sticks.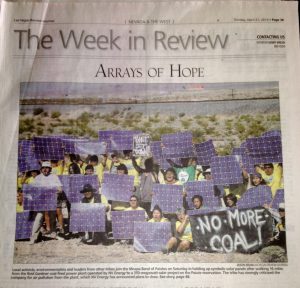 This Earth Day event by the Moapa Band of Paiutes and their supporters (Sierra Club made the solar panel signs) took a lot of advance organizing and planning — the rally at the site of the tribe's upcoming commercial scale solar project started with a 16-mile walk from the Reid Gardner coal plant next to the Paiutes' homes. Their attention to the visuals helped ensure the event's message landed with impact in Nevadans' living rooms and web browsers.
It was another in what's been an ongoing run of successful events and communications around coal to clean energy transition in a place where a coal plant has hurt a community's health, land, and culture for decades — a place where that transition is now being won.