There's nothing more disappointing than a perfect graphic severed by social media. From cover photos to Twitter pictures, Facebook posts to Pinterest thumbnails, every outlet has different places for images with slightly different dimensions. The last thing you want is your main message cut in half because your picture doesn't fit a certain post.
But with the help of Internet Marketing Ninjas' "Social Image Resizer Tool," you can crop the perfect image for every site. This puts you in control of what to show.
This tool is easy and intuitive to use. First you have to upload your image. It can either be from your computer or a URL. Just select the image, and press upload. Then you'll choose the outlet for your image. The Resizer has dimensions for different images on Facebook, Twitter, Google, LinkedIn, Pinterest, and Instagram.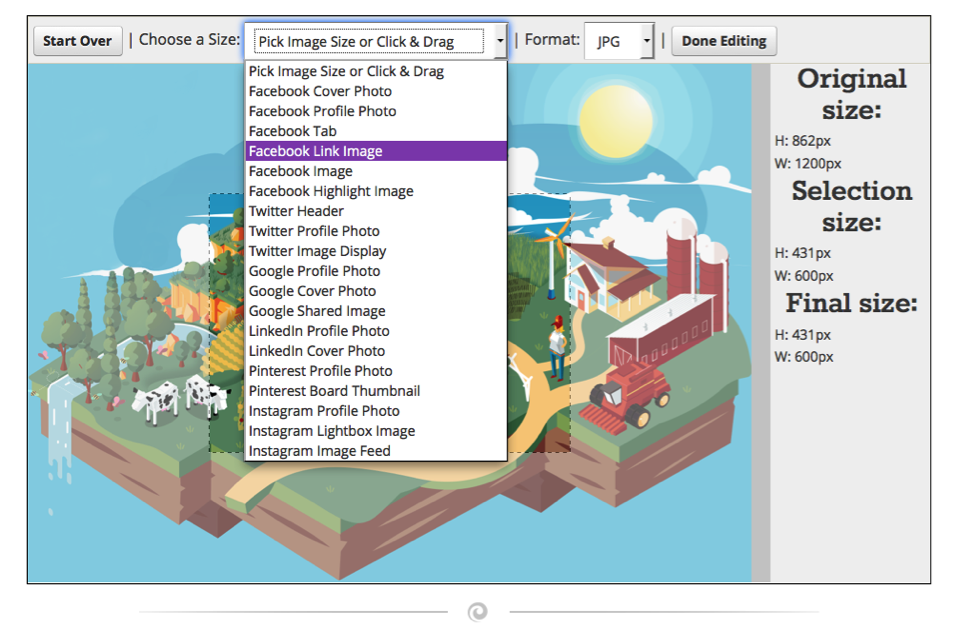 You'll see a fixed frame that you can move and resize to your liking. On the right-hand side bar there is the size specifications of your new and original image. When you have cropped the image to your liking, hit "done editing."

You can send your new perfectly sized image to an e-mail address, or download it onto your computer. And that's it! You're ready to share a precise picture with the web.
–Claire Kelloway, Resource Media intern