This month, the little-known concept of marine protected areas (MPAs) and a new hashtag #MPAsWork attracted 1000 tweets in one hour, causing the discussion to trend on Twitter. This was thanks to a Twitter party hosted by Sarah Sikich of Heal the Bay and Samantha Murray of Ocean Conservancy (via @thepacificocean) that Resource Media helped plan. It was a terrific way to connect ocean lovers and experts around the issue of our underwater parks, and promote the use of the hashtag #MPAsWork so the discussion and exchange of ideas can continue online.
You can create your own Twitter party, but for the most success, you'll need to put in some prep work. As an experienced hostess in real life, I know the key to a great party is the people. You can host it at the Taj Mahal with vintage Champagne, but if the guests don't want to be there or don't want to talk to each other, people will disappear. And as in real life, it's helpful to get a partner in crime to share the prepwork. Here are five steps to make your Twitter party successful and fun.
1. Determine your purpose and your audience.
The party was prompted by Samantha and Sarah's upcoming trip to IMPAC3, an international conference that brings together people working on marine protected areas (MPAs) from all over the world. At the conference, they were going to be using social media efforts to promote California's MPAs, which are relatively new and still unknown globally. We created the hashtag #MPAsWork to highlight success stories and challenges from the conference, and to share lessons learned from establishing California's network of underwater parks. They also wanted to bring back news from IMPAC3 with California ocean lovers.
Initially they'd also wanted to include participants worldwide who had been at the conference, but the logistical issue of multiple time zones and that pesky thing called sleep forced us to focus on US ocean lovers. To include mermaids and mermen from the west and east coast, we suggested 2pm PST.
2. Promote the party weeks in advance.
The team began promoting the party a month in advance through ocean-related blog postings, list serves and by passing out 100 cards at the conference with the hashtag #MPAsWork. The week before, individuals were emailed, and the day before, influential microbloggers were invited.

@ThePacificOcean and @HealtheBay also sent out party reminders on Twitter.
3. Create a party plan, including prepared questions and content.
A tried and true hostess trick is to plan out the events in advance and decorate and shop at least the day before, so you're fresh for your guests. The same is true for Twitter parties.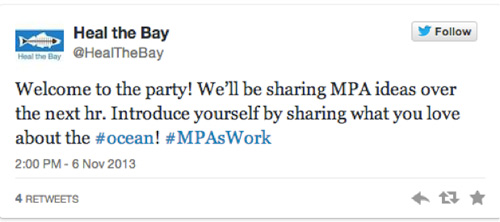 Number the questions, and post them 10 minutes apart to give people time to respond. If you use Hootsuite or another 3rd party Twitter app, you can schedule them in advance to free up your time.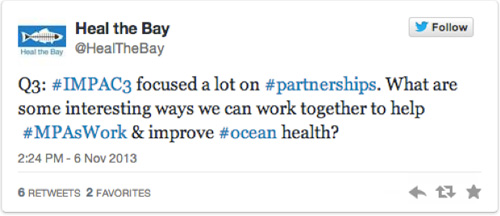 Create your own answers to questions in advance that touch on your key campaign messages. Have your own content ready to post with tweets that include your key messages or concepts.
Don't forget to include photos or graphics to help tell the story. One Ocean Conservancy graphic of how an MPA works was retweeted 35 times: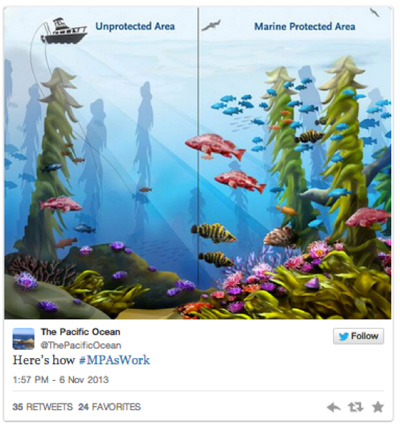 4. Encourage participation.
Having your own content ready to post leaves you free to attend to your guests and spark the conversation. You should be prepared to respond to questions and retweet interesting remarks. Don't worry about trying to control the party too much. Our mix of people included a divemaster in New Zealand, an ocean lover in Billings Montana, and ocean policy experts from coast to coast. They were asking questions and responding to each other, and it was fun to see how the party was connecting people in one short hour.
Consider offering a prize to the most unique or interesting set of tweets. Our prize went to @TOLEMOUR, who shared stories of taking schoolkids to the Channel Islands MPAs, and offered ideas for winning political and public support.

When the party is wrapped up, thank everyone for participating. It will be tempting to continue tweeting past the party hour. Don't. Avoid the twangover and leave while the party is still lively.
5. Archive the party on Storify.
After the party is over and you've high-fived your co-host, create a record on Storify to store and view the content, like Heal the Bay did below. It's easy to drag the relevant posts you want to save from your Twitter platform into the Storify record you create.
It's a great way to show the discussions from the party to people who weren't able to attend. It also enables you to view all the posts from the party, including some you likely missed if the Tweets are coming in fast and furious.
When you're done, share the link. You'll have a treasure trove of interesting content, a few new Twitter friends, and you won't have to worry about cleaning that red wine stain off the living room carpet. Rest up, and if the party was a success, consider planning another in a few months.
Do you have any other Twitter party tips? Please share them in the comments below, or write me at Penelope@resource-media.org.