Whether you are creating an infographic, illustration, brand, or logo, clear and concise icons can make visual communication easy. But designing a simple clean icon can be harder than it looks, and finding useable images online can be even trickier. Enter The Noun Project, an easy to use online goldmine of professionally designed icons.
The Noun Project's mission is to simplify global communication through a shared visual language. They consider their ever-growing collection of icons to be a new visual dictionary of sorts. By crowd sourcing icons from hundreds of designers, they provide an impressively extensive bank of images. Just look at the results that come up when you search for "tree" icons.
They have icons for just about anything, and often many styles to choose from. Here is another sampling of the different icons they have for a somewhat complex idea like "donation."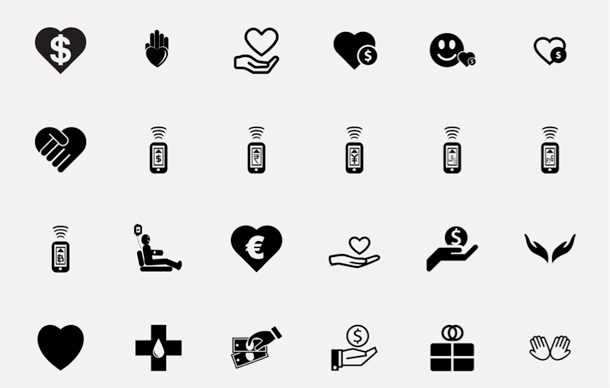 However, there are some tricks to finding the perfect image. To get the most results it is best to stick with simple searches. Lengthy or specific requests will often leave you empty handed. Sometimes the image you are looking for will not be labeled in a way you expect. For instance, I found more images of fishermen searching "fish" and "fishing" as opposed to the obvious "fisherman." But, the Noun Project provides ways for you to find the right icon to express your nuanced point. For instance, under any image you select they provide related images for you to browse.
You can also search by artist to find icons with a similar style.
Otherwise, many simple icons with the same simple names can create a paradox of choice, and the only way to sort through the options is to spend some time scrolling. But once you've found the perfect image you can easily download it. However, there are some stipulations.
Some of the icons are in the public domain and ready to use free of charge, but most are licensed in the Creative Commons and require artist attribution. All free downloads have an accreditation
You can also buy royalty-free icons for $1.99 each, or upgrade to NounPro and pay $10 a month for unlimited royalty-free downloads. This might be something to consider if you plan on making many icon-heavy graphics and prefer to pay artists instead of sparing the space for credits.
However you might need to use icons, the NounProject is an incredible resource for designers and media personnel to help create pretty, persuasive, and perspicuous visuals.
–Claire Kelloway, Winter Intern