If you are publishing content on the web, or social media sites, you are probably using photos or images you've found through a search on the web. Sometimes, it can be tricky attributing photos properly, and it's important to do so correctly. The reason it's important to be correct about this is to not only be courteous, but to abide by the law. Are you confident that you are giving credit where credit is due? If not, here is a quick primer to get you on the straight and narrow. We are fans of the photo attribution approach called "TASL," introduced by Creative Commons, an organization dedicated to enabling the sharing and use of creativity and knowledge through free legal tools.
Title: Sometimes when you find an image, it has an original title. If there is one, be sure to include it in your attribution! If not, don't worry about it.
Author: The author of an image is the individual who owns the rights to it. Sometimes, the author may be more than one individual, or it may be a company. Be sure to list the author or authors when attributing a photo, and add a link to their profile page accordingly.
Source: The source of the image is the link to where the original image exists. Don't forget to provide a link to the photo's origin!
License: Different photos will have different restrictions. Licenses are meant to describe these restrictions, and will tell you how photos can and can't be used. Which license is the photo under? Be sure to include that information when you attribute!
Changes: Changes you've made to the photo, such as saturating, desaturating, and resizing all need to be mentioned. Keep in mind that a license will identify what photo alterations can be made, but the title of the license won't make this clear. Even though your audience can read the information in the license to see what is entailed, it will be easier for them if you include what changes you've made if you mention it when you attribute.
While TASL works really well for photos and other creative works that are published under a Creative Commons License, the basic premise can also be used with other images for which the creator has granted you permission to use.
Creative Commons offers six licenses for photos and each have three readable "layers" meant for different types of audiences. There's the legal code layer, meant for lawyers, the human readable layer for users and non-specialists, and the machine readable version for software and search engines. Before you start searching for photos through Creative Commons, there are a few things to know to make your search easier and more tailored to what you're looking for. Learn more Creative Commons photo search tips, and get some background information on copyright.
Although Creative Commons is great for finding photos and attributing them with ease, there are other sites available for browsing as well. Here's a handy list for finding stock photos on the web. Each site has its own flair for finding photos, including additional options for photo licensing.
For the photos below: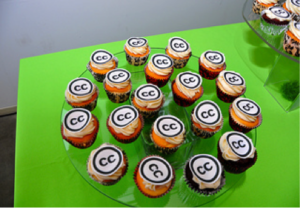 Ideal attribution:
"Creative Commons 10th Birthday Celebration San Francisco" by tvol is licensed under CC BY 2.0
Includes title, author, source, and license. Links also included.
Basic attribution:
tvol/CC BY 2.0
Does not include a title, link to author's profile page, or source.
When you paste photos on the web, sometimes your attribution gets left out while your photos get copied and reused. This can happen, for example, when you add a photo to your blog and paste your attribution next to it. The result is your photo gets copied, but not your attribution. That's where attribution legalities get messy. A good way to prevent this from happening is to paste your attribution on the photo. No attribution loss there!
At the end of the day, you want your attribution to be fair and accurate. Keep in mind that while licenses often indicate how a photo or other creative work can and can't be used, sometimes creators ask that you abide by additional restrictions. Be sure to seek out any related information you can, and remember that extra attribution details are better than too few. You may also be able to ask the creator for permission to use the photo in way that is prohibited by the license. The license usually just tells you what you can do without asking. So don't hesitate to ask.
Happy attributing!
—Gregory Heller and Rachel Dobson