At a 2013 staff retreat in Portland, Oregon, Resource Media's mostly white staff sat down with consultant Natasha Aruliah to discuss diversity, equity and inclusion. Few of us realized that this first set of exercises, focused on helping our team understand aspects of the dominant culture that made our organization unwelcoming to people who represent marginalized communities, would be the beginning of a long journey to transform our organization inside and out. 
At the time, Natasha warned us that the work would be hard, that it would take time and commitment, that there would be many moments of discomfort. I recall feeling daunted at what we were getting into. 
Many years later, I shared with Natasha that I thought she'd buried the lede: that the real message is not that this work is difficult, though it certainly can be, but that it is transformative and incredibly and deeply rewarding—personally, professionally, spiritually and emotionally. 
At some point in an equity journey, you come to terms with the fact that the journey and the work never really ends. And with that kind of a journey, it can be very hard to see your progress.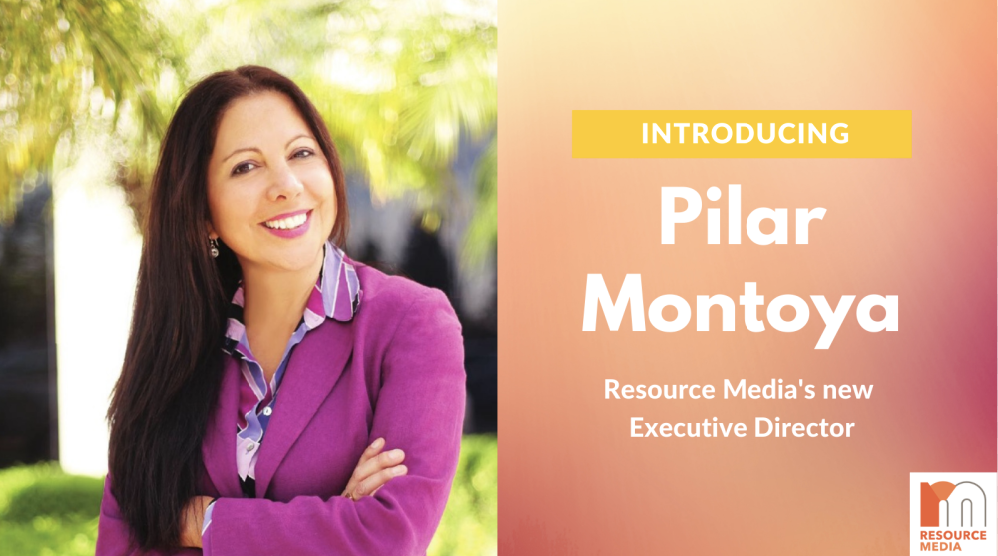 There are moments, however, when progress comes into very sharp focus. On October 5, when Pilar Montoya joins Resource Media as our new Executive Director, Resource Media will reach one such milestone, becoming a BIPOC- and woman-led organization, with a majority BIPOC executive team, majority-BIPOC staff, and majority BIPOC manager cohort. 
This is an important milestone because a key challenge facing white-led organizations looking to become more equitable and inclusive, is diversifying senior leadership. Equity and justice work is about power—specifically about authentically building power by and for people who have been historically oppressed, and white people sharing the power they have hoarded for so long. As long as power is concentrated with white staff, there's only so much progress you can make. 
Around two years ago, Resource Media's long-time executive director Scott Miller shared with the staff and Board that he would be stepping down to create space for new leadership. Scott was very clear that his decision was a deliberate part of his own equity journey. 
"Watching Resource Media transform itself also transformed me. I could see and feel that it was time for me to step back so others could step up and lead," reflected Scott.  He  now runs his own consulting firm focused on organizational development and support for organizations that seek to play their part in pursuing equitable social change. "That was the best way for Resource Media to maximize its impact and realize the full potential of its talented, diverse staff. I couldn't be more excited about  this next phase of Resource Media's evolution." 
Scott's tenure at Resource Media had spanned 13 years over two terms, and over that time he'd been the primary liaison with the Board of Directors. As he prepared to step down, we all realized that with the Board making the critical decision around hiring a new executive, it would be essential for the Board and staff to get to know each other better, and for the Board to gain a better understanding of Resource Media's culture, work and equity values. 
It was at that point that I stepped in as our interim Executive Director to create space and time for a thoughtful and deliberate process leading up to the executive search. What followed was an incredibly inclusive and co-created process grounded in relationship-building and trust. Between Scott's announcement and the Board's decision to hire Pilar, we took the following steps:
Organized casual staff/board meet-and-greets over Zoom and in person when possible. 
Created a board/staff Slack channel to facilitate information-sharing, and invited the Board to several existing channels. 
Invited the board to join several all-staff calls.
Organized a board/staff retreat with an integrated equity training and relationship-building exercises.
Created a board/staff working group to gather input from staff to inform the search process.
Organized board equity reading groups and hired a consultant to work with the board to clarify its role in Resource Media's equity work. 
Created a board/staff group to manage the process for hiring a search firm, resulting in a partnership with Axis Talent Partners, a firm founded and led by women of color that specializes in DEI-grounded executive searches.
Created a board/staff search process committee to manage and co-create every aspect of the executive search process, from the job description and core competencies to the interview and selection process.
Engaged nearly half of the staff in the candidate interview process, and provided anti-bias training and coaching for all interviewers. 
At the end of all of this relationship- and trust-building, careful process design and thoughtful deliberation, the Board invited Pilar Montoya to join our team. Pilar brings a strong background in social change communications, nonprofit leadership, management and fundraising— all deeply grounded in her personal commitment to equity and racial justice. 
She joins our team at a moment of great challenge and opportunity. Never have the threats we face—from the pandemic to climate change to a racial reckoning and threats to our democratic institutions—been greater. And never has the need for strategic communications grounded in equity and racial justice been more critical. 
The good news is Pilar is more than ready to dive in. 
"We face the convergence of the powerful impacts of climate change, social injustice, an economic downturn, and a devastating pandemic like never seen before.  In the face of tremendous hardship, we must have the courage to engage, empower, and mobilize," said Pilar Montoya, incoming Executive Director, Resource Media.
–Amy Frykman