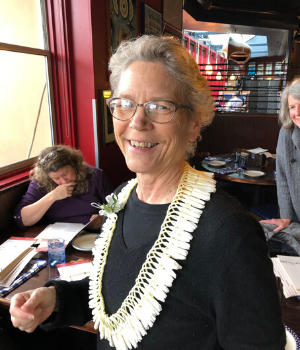 One star shines brighter in the sky this month. Kay Treakle, a dear friend of Resource Media, passed away on June 10. The cause of her death was liver cancer. Kay was a longtime supporter of Resource Media, both as a program officer at the Harder Foundation in Tacoma, Washington, and as a valued thought partner for our staff. We would like to share some of our fondest memories of Kay.
Scott: "One of my favorite funder outreach duties was lunch with Kay down in Tacoma. During these long lunches, we hatched many ideas and thoughts about making the world a more just and sustainable place. Kay was also the rare funder that took risks. The Harder Foundation was not a large funder and as such, she was always careful not to just follow the pack. This led her to places like the Washington Coast, where she saw a real opportunity for local engagement to build an authentic constituency for conservation in a part of the state where 'environmentalist' has long been a dirty word. She knew it would take time and she was okay with that. She really leaves a hole in the funding and conservation community.
"Kay could be tough and didn't suffer the disingenuous or ego-trippers lightly. She was well-aware that the funding world can be self-obsessed and insular. She did her best to be the opposite and, in my mind, she succeeded. She didn't need to be right. She was always anxious to talk with me about what happens next, win, lose or draw."
Liz: "I first met Kay through a mutual friend Elaine Chang. She was very excited that Kay and Bruce were moving back to the Pacific Northwest. 'You have to meet her! She is so smart! She's working in your world, Liz!' Well, who was this woman with a stellar reputation? I met Kay for the first time at one of Elaine's election night parties and she stood out for her political knowledge and her political opinions. You've got to love someone who has an opinion and can thoroughly back it up with knowledge. In 2016 – a total upset (and upsetting) election year, she won the presidential candidate (and VP) guessing game by getting closest to guessing correctly in January 2016 who the political party nominees for President and VP would be. The rest of us were wildly off in our predictions. Kay felt the political pulse better than most folks.
"On the work front, everyone needs a Kay Treakle in their meetings who adds some much-needed spice to sometimes dry meetings; in other words, curse-free meetings became sprinkled (where appropriate – always) with F-bombs whenever Kay was present. I remember one marine conservation meeting – several hours in a stuffy room with Kay and several other funders. We nonprofit grantees were on our best behavior, had laboriously prepped ahead of time and were ready for something quite formal. But, then Kay — with her magical ability to make everyone loosen up and get real — infused the dialogue with just the right amount of cursing. The results were instantaneous – the meeting was much more fun after the first curse word was lobbed. Yes, she had that rare gift to make hours-long meetings fun…we all know this truly is an art form." 
Kay will be greatly missed by all of us. A wonderful story about Kay's life published by The News Tribune is here. A memorial service in Tacoma is planned for later this year.
— Scott Miller, former Executive Director and Liz Banse, Senior Program Director