Visual storytelling can be even more powerful in a multimedia format. Dual coding theory states that information is more easily recalled when the brain's verbal and visual channels are simultaneously activated.
First, a definition of what is multimedia is, in order: a cinematic slideshow (think video mixed with still photos, graphics, text and animation) combined with an audio narrative (think music, narrator and interview clips), and occasionally some interactivity.
The Pulitzer Center on Crisis Reporting does just this by telling stories in a highly interactive format. They tackle global issues through the gateway of individuals in a particular place in a decidedly non-linear fashion. For example, check out this site on "living and loving with HIV in Jamaica." It doesn't look like your average website or newspaper, does it?
Remember: you must follow the basic principles of storytelling. Yes, we are starting to sound like a broken record on this topic. But, specific to multimedia productions, media guru Brian Storm says that he and his staff don't even assemble the photos and video footage until they have written the story.
The story is central to the success of the visual. And vice versa, of course. Robert Hood of msnbc.com says, "Publishing a bad slideshow just to pump up your traffic numbers will quickly cause your potential audience to ignore you. You have to keep the quality bar high. This is about maintaining audience trust. They have to know they'll get something good if they click that slideshow or video button." In other words, make it eye candy with nutritional value.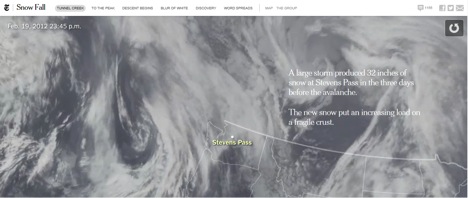 MediaStorm has a great repository of multimedia storytelling examples. The New York Times December 2012 story on the Tunnel Creek avalanche in Washington state is an example of the news media's efforts to push their web-based reporting to new levels, giving their stories more depth and vitality through multimedia formats than is possible through print media. In December 2012, the Boston Globe approached multimedia storytelling by using Instagram to help tell the story of a violence-torn neighborhood called Bowdoin-Geneva. Here, the residents themselves tell their own stories and the newspaper serves as curator.
Try Animoto if you are new to simple slideshow-style storytelling. It's a good starter site for creating your own multimedia video with images, text and music. Or, with Present.me you can merge video, PowerPoint and even slideshows for visually-stimulating storytelling. Royalty-free music can be found at The Music Bakery and other sites. Timelines can be used to show progress (or lack thereof). VeriteCo provides a few examples and software to embed timelines on websites. Check out the history of hats!